pdxOpenTech is an ongoing grant-funded initiative that got started in response to the pandemic-induced closure of physical maker-spaces & community programming around Portland (including my own). I serve as coordinator for the project & web-master for the site – managing the back-end, personnel, equipment, infrastructure, & scheduling.
pdxOpenTech seeks to develop courses that explore emerging tech through creative applications and in the context of various equity frameworks.
A diverse range of instructors and creatives are employed to generate curriculum and hold free workshops with under-served middle and high-school students recruited through community partners. Students are provided with preloaded computers, tech support, and mentorship. We focus on free software tools so that students can continue learning and creating, even after the workshops end.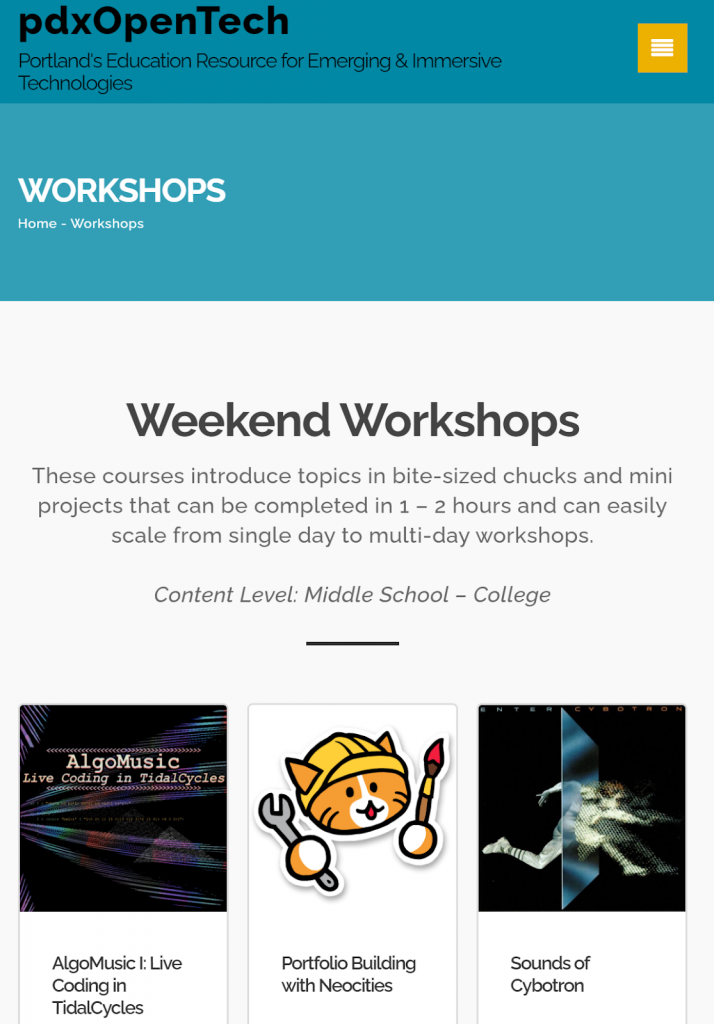 Current and upcoming workshops include:
AI & Machine Learning
Sound Design with Max/MSP
Live coding in TidalCycles
Worldbuilding in Scratch
Worldbuilding in Unity
AR Activism
2D Game Design
BorderXR
360 Video
Afrofuturism
Blender Foundations
Paper Circuits + Zines
Data & Representation
Live workshops are being actively developed into asynchronous online workshops and posted publicly for anyone to explore. Full-length course equivalent online classes are also being developed to parallel Portland Community College's Creative Coding, Sonic Arts, & Multimedia curriculum. Our hope is that we can provide robust and accessible educational content and training for Oregon educators (& beyond) who want to lead workshops in their own classes or communities.
Check out our recent mention in Technology Association of Oregon's #STEMSpotlight campaign